XR film RV3 (antigua XR Type R) is the film Radiochromic model designed to measure skin dose during fluoroscopic procedures Guidos. It has a size of 14″x17″.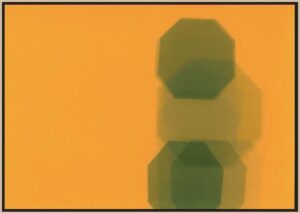 It allows us to establish reference levels of dose for interventional procedures.
Improved techniques fluoroscopy.
Reduces the likelihood of damage to the patient's skin.
It facilitates planning tracking procedures to reduce the risk of use of fluoroscopy.
Specifications
The film XR Type R has the following characteristics:
Autorevelado, no chemical, or processing or darkroom

0,1Gy dynamic range of up to 15Gy.

It shows how radiation is distributed

Not suffer effects of fractions or rate

Resistant to water and other liquids.

Not sensitive to light.

Eliminates the uncertainties of estimating dose dosimeters area (BICYCLE).

With the film XR R type it is easy to know the dose distribution and dose peaks and their location.
energy dependence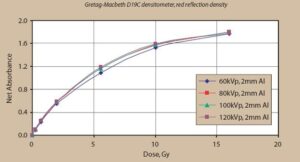 Quantitative dosimetry
The response of the film XR Type R depends on factors such as the energy spectrum of the radiation source, the characteristics of the densitometer, Film scanners or other measuring means.
As a rule the absolute response of the film XR Type R can vary from batch to batch, so the user should again make a measurement when the batch is changed.
Measuring devices can be Tobias RXP, and Gretag-Macbeth D19C densitometer Reflection or any flatbed scanner.
Dose distribution measured with XR Type R:
What you need to know when we fluoroscopy:
Do not rely on inaccurate methods

Time spent fluoroscopy is a poor predictor of time (see publ. 2, Y 4)

Dosímetros de area (BICYCLE) poorly correlated the measurements with peak skin dose (2,3,6)

Why doubt when you can measure the dose?

The answer is in the film XR Type R

Easy to calculate the peak dose

quick, easy to use, reliable and clinically proven (3,7,10)